CPE

Micro Tweezers Station
JBC revolutionizes the hand soldering with the Soldering Assistant mode. Based on pre-stored soldering joint, the system would compare it in real time with all the new soldering processes.
This station comes with the
Adjustable Micro Tweezers AM120
, the most effective tool for soldering and rework of SMD components like chips and small/medium SOP that require the highest precision.
The NEW CPE extends the benefits with respect to CP station with new features among which stand out:
- Assistant Work Mode
- Dynamic Soldering Profiles for soldering MLCC capacitors.
- Direct connectivity with
Smart Fume Extractors
It provides the best soldering quality thanks to
JBC Most Efficient Soldering System
and additionally
Sleep & Hibernation modes
help to extend life of tips.
Cartridge extractor
facilitates fast and safe cartridge change of different tip geometries.
The Micro Tweezers AM120 works with
C120
cartridges.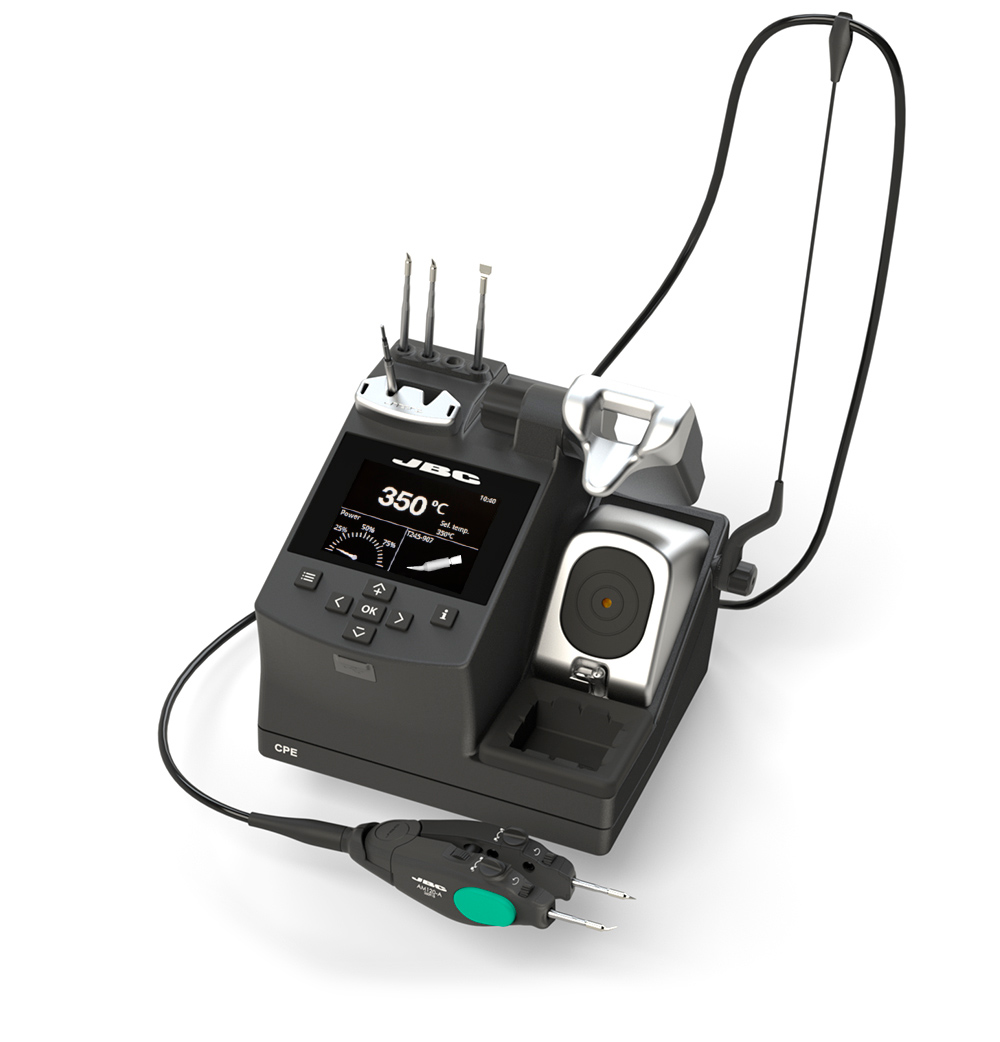 PRODUCT COMPOSITION
- 1
CPE CONTROL UNIT CPE with Tip Cleaning System
SPECIFICATIONS
Selectable Temperature
90 to 450 ºC / 190 to 840 ºF
USB-B
Software PC / Firmware update
Equipotential bonding
Optional connection to EPA
Tip to ground resistance
<2 ohms
Tip to ground voltage
<2 mV RMS
Ambient operating temp.
10 to 50 ºC / 50 to 120 ºF
compact
170 x 154 x 170 mm / 2.70 kg.
6.69 x 6.06 x 6.69 in / 5.96 lb.
Package
234 x 234 x 258 mm / 3.14 kg.
9.21 x 9.21 x 10.16 in / 6.92 lb.