AM120-A

Adjustable Micro Tweezers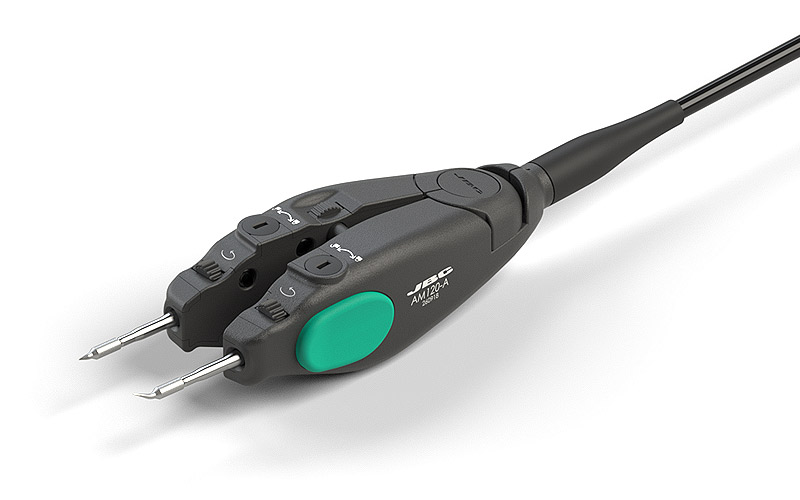 It provides a perfect solution
for fast and precise SMD rework
of chip components and
small/medium SOP
from PCB assemblies.
Perfect cartridge alignment
The adjusting system guarantees that the cartridges are equally aligned, with vertical and rotatory symmetry.
Stable movement
A single axis system helps guide your hand and steadies your pulse. Ideal for
very precise
applications.
Shortest distance Tip-to-Grip
Provides the greatest precision handling of the tool, even under microscope.
The Micro Tweezers AM120 work with
C120
cartridges whose exceptional thinness allows reworking components on heavy populated PCBAs without disturbing nearby components.
Supplied
without cartridges
.
Temperature range
90 to 450 ºC / 190 to 840 ºF
Cable length
1.5 m / 4.9 feet
Cartridge alignment
The adjustment knobs built in this Micro Tweezers allows perfect alignment of both tips for precise rework of the smallest SMD components.
Stable movement
Thanks to its robust pivot shaft, the Tweezers allows keeping the component in between the tips preventing it from flipping over.
Tip to ground resistance
<2 ohms
Tip to ground voltage
<2 mV RMS
Tool
35 x 32 x 112 mm / 0.1 kg
1.4 x 1.3 x 4.4 in / 0.22 lb
Package
277 x 73 x 50 mm / 0.17 kg
10.9 x 2.9 x 2.0 in / 0.37 lb

Cartridge Range
Compact Line
Modular System
Stands
Accessories