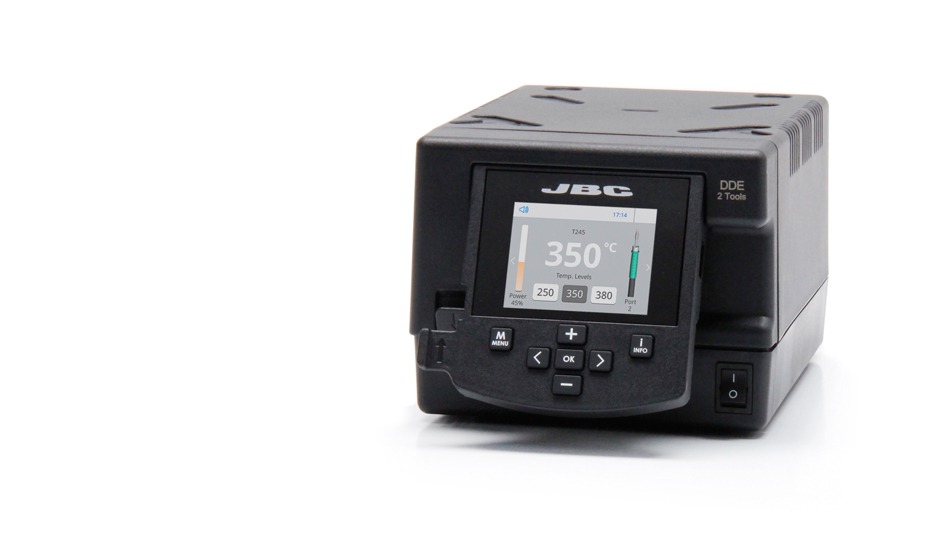 This control unit manages
up to 2
tools
simultaneously
. It offers
full connectivity
to any
JBC soldering or desoldering tools
.
It works with the
JBC exclusive heating system
and the intelligent
sleep & hibernation
modes.
It features all the
Excellence range
benefits such as station customization, full control of soldering processes and remote work management.
The
easy-to-use menu
offers innovative functions to help you monitor the work in real time: graphics, partial counters or tool port monitoring.
For a basic working system, you need 1 stand, 1 tool and 1 cartridge.
SPECIFICATIONS
Net weight
3,82 kg (8.41lb)
Dimensions
148 x 120 x 232 mm
Output peak power
150W per tool
Temperature selection
90-450 ºC (190-840 ºF)
Idle temp. stability (still air)
±1.5 ºC (±3 ºF)
Tip to ground resistance
<2 ohms
Tip to ground voltage
<2 mV RMS
Ambient operating temp.
10-40 ºC (50-104 ºF)
Communication connectors
USB-A / USB-B / Peripherals
Robot connector
RJ12 for RS-232 protocol
Package weight
4.269 kg (9.41 lb)
Package dimensions
258 x 328 x 208 mm
Other Compatible Items
Supplied in