Heating area 360 x 277 mm.
The most
complete solution
to preheating
large PCBs
. Essential for soldering on
multilayered boards
.
Uniform heat distribution with
2 independent heating zones
. The heater is protected by
high resistance glass
.
It has
3 adjustable heights
and can fit
all sizes and shapes
of PCBs.
3 preset temperature profiles and
20 more user defined profiles
.
The
Control Thermocouple
follows a temperature profile precisely and the
auxiliary Thermocouple
protects PCB´s components.
Desoldering in 3 simple steps
1. Placing
JBC features a wide range of extractors, tripods and protectors so you can choose one to suit the component.
2. Heating
The adjacent components are protected by concentrating heat only on the component you are working on.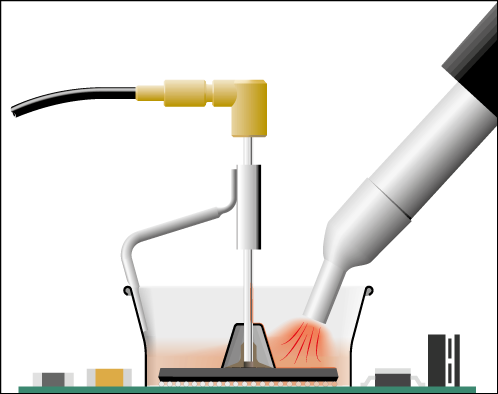 3. Extracting
The component lifts off automatically.