FAE1

Fume Extractor for 1 Workbench
The FAE is the most efficient solution to avoid exposure to solder fumes. It optimizes fume extraction operating only when needed.

The extractor starts up only when soldering. This function saves power and the life of the equipment as well as the filter.

Thanks to a vacuum system integrated into the stand, the system also detects when the tool is at rest and automatically absorbs the fumes.

The FAE1 provides direct connection of up to 4 soldering or rework stations and stand fume extractions for up to 4 tools.

It can be controlled via JBC stations, a pedal, a robotic system or a PC.

It has 3 predefined levels of aspiration: low, medium and high, and a custom mode with which you can set the airflow within the low (10%) and max rates (100%).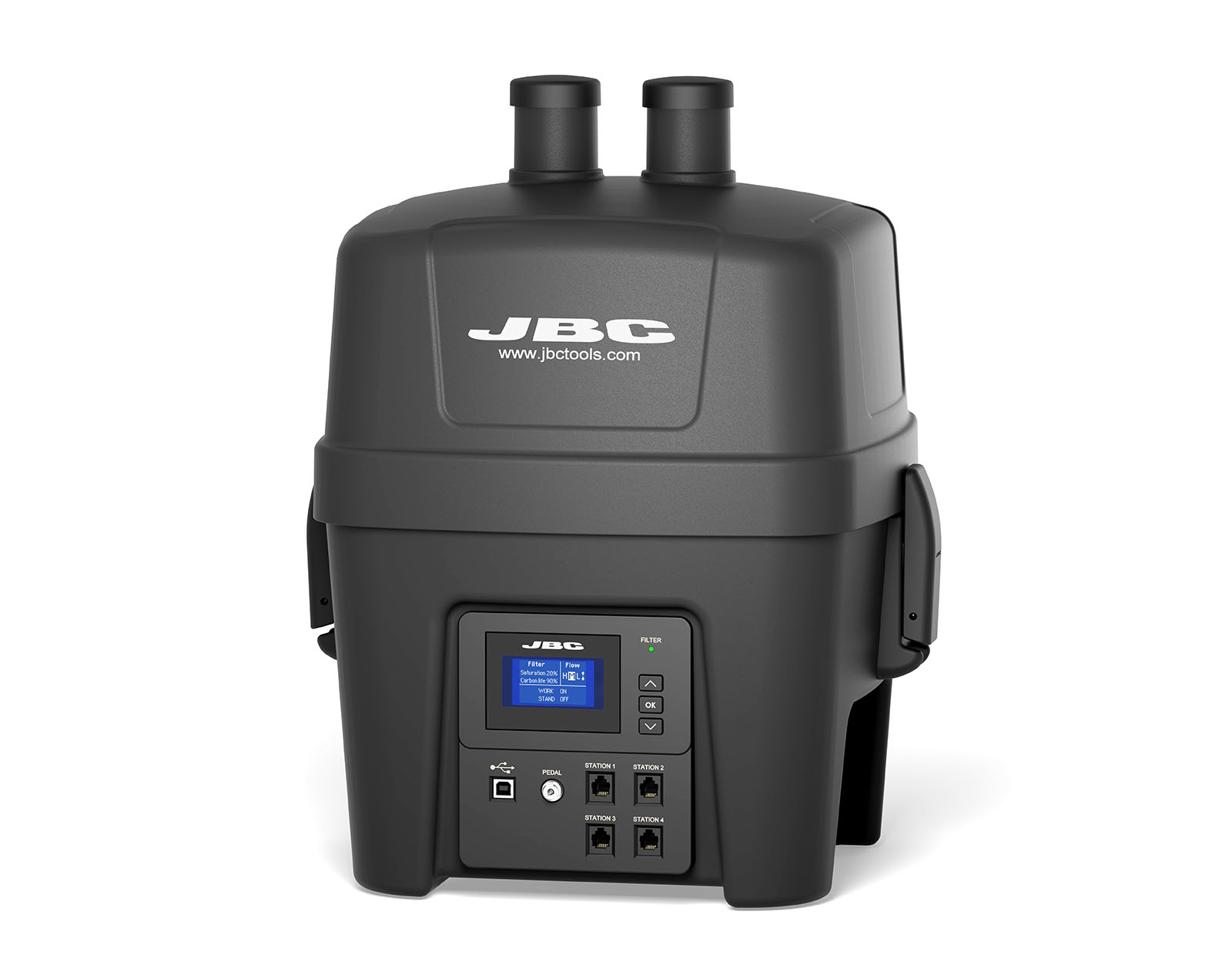 REFERENCES
FAE1-1B
120 V
FAE1-2B
230 V
PRODUCT COMPOSITION
1
FAE1 Fume Extractor for 1 Workbench
SPECIFICATIONS
Aspiration flow rate
Low / Medium / High / Custom
Operation modes
Automatic (JBC Stations)
Max. flow rate
180m3/h (106 CFM)
Max. vacuum
3.2 KPa (0.46 psi)
Pre-filter
Medium dust filter M5 (EN 779)
2 Stages Main Filter
1st stage H13 filter for solid particles (EN 1822)
2nd stage Carbon filter for gases depuration
Station 1-4 (RJ12)
Direct connection for 4 Stations
Pedal
Optional tool control through Pedal
P-005
Ambient operating temp.
10 to 40 ºC / 50 to 104 ºF
Unit
380 x 340 x 475 mm / 10.50 kg.
14.96 x 13.39 x 18.70 in / 23.15 lb.
Package
425 x 425 x 545 mm / 12.76 kg.
16.73 x 16.73 x 21.46 in / 28.12 lb.