CP

Micro Tweezers Station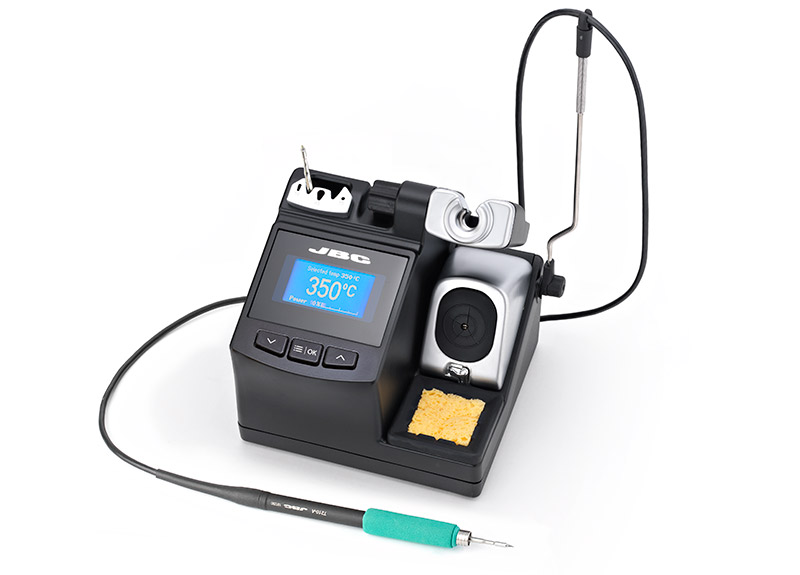 The Station comes
with the Adjustable Micro Tweezers
AM120
. This is the fastest way to
remove SMD
passive components and
small/medium SOP
from PCB assemblies.
The Tweezers are suitabel for
C120
Cartridges.
The Station works with the
JBC exclusive Heating System
and the intelligent
Sleep & Hibernation
features.
Using the
menu
you can personalize
over 20 parametes
.
It features a
USB connector
to update software, create graphs and manage parameters from a PC.
A
complete Cleaning System
with antisplash membrane and wiper with sponge is integrated.
Available in the following references:
Temperature
90 to 450 ºC / 190 to 840 ºF
These modes lower soldering tip temperature when the tool rests in the stand in order to avoid oxidation and extending tip life.
Max. and min. temperature:
Limit the temperature range in which the operator is allowed to work.
Temperatue levels
Instant selection of up to 3 editable temperature settings for solder joints with different heat requirement.
PIN protection
Keep station parameters protected against unauthorized access.
USB-B
Software PC / Firmware update
Tip to ground resistance
<2 ohms
Tip to ground voltage
<2 mV RMS
Voltage (AC)
Ref. CP-1E - 120 V
Ambient operating temp.
10 to 40 ºC / 50 to 104 ºF
Control Unit
150 x 175 x 145 mm / 2.70 kg
5.9 x 6.9 x 5.7 in / 5.96 lb
Package
234 x 234 x 258 mm / 3.15 kg
9.2 x 9.2 x 10.2 in / 6.94 lb

Cartridges Range
Connectable tools
Spare Parts
INTELLIGENT HEAT MANAGEMENT

The only time a soldering iron must reach its required
temperature level is during a soldering operation.
JBC's intelligent heat management detects how the tools are used;
accordingly the integrated support function activates
the sleep or hibernation mode.

The intelligent heat management helps
to extend tip life by lowering temperature;
it also helps to save energy by reducing power usage
to 10W in sleep mode and 4W in hibernation mode.

Help us to protect the environment and to save energy!