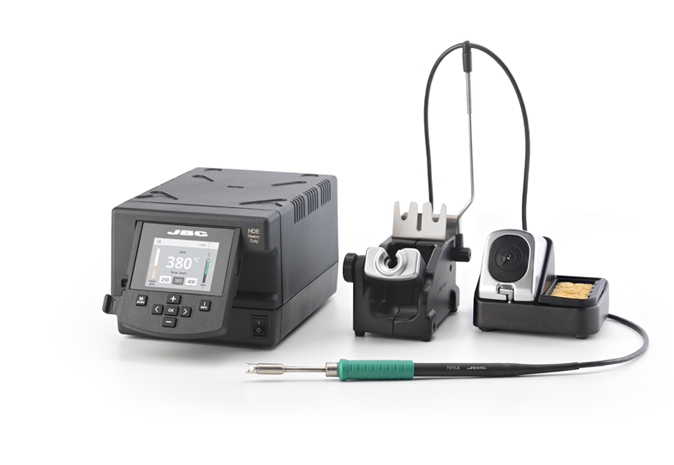 This is the ideal solution for
high thermal demand or prolonged soldering applications
such as the production of solar panels, multi-layered circuits and components of large dissipation surfaces.
It works with the
JBC exclusive heating system
and the intelligent
sleep & hibernation
modes.
It features all the
Excellence range
benefits. The
easy-to-use menu
offers innovative functions to help you monitor the work in real time such as graphics or partial counters.
This station works with the comfortable
T470 handpiece
and
C470 cartridges
.
No cartridge supplied with this station.
SPECIFICATIONS
Net weight
4,17 kg (9.18lb)
Dimensions
145 x 120 x 225 mm
Temperature selection
90-500 ºC (190-932 ºF)
Idle temp. stability (still air)
±1.5 ºC (±3 ºF)
Tip to ground resistance
<2 ohms
Tip to ground voltage
<2 mV RMS
Ambient operating temp.
10-40 ºC (50-104 ºF)
Communication connectors
USB-A / USB-B / Peripherals
Robot connector
RJ12 for RS-232 protocol
Package weight
5,92 kg (13.05lb)
Package dimensions
368 x 368 x 195 mm
Cartridge Range
Other Compatible Items