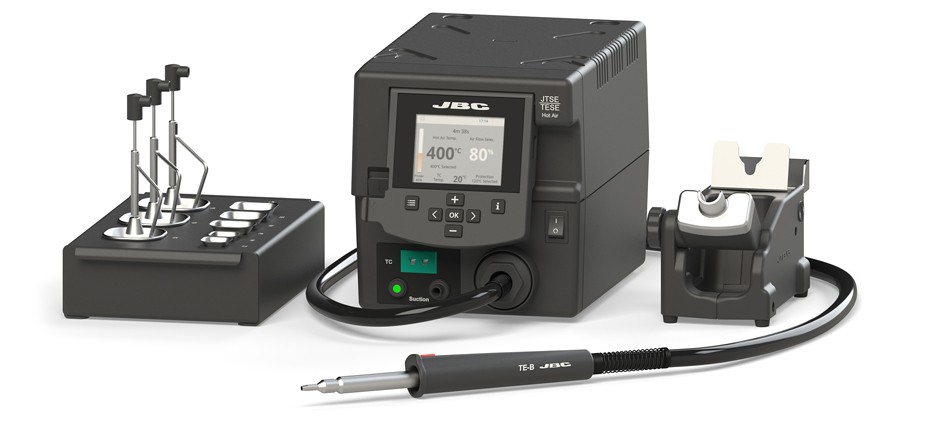 TESE is a precision hot air station
for repairing small and medium SMDs quickly and safely
.
Profiles Mode
It features along with the manual mode a powerful functionality of profiles to perform rework tasks with the maximum precision.You can
control temperature values and air flow rate by creating up to 25 profiles
.
Control Thermocouple
You can read the temperature at a specific point on the PCB with the control thermocouple
PH218
. It helps
protect the components or a specific area on the PCB
.
Auto-stop Function
The auto-stop function is a safety measure which ensures
the heat is automatically cut off
when the tool is in the
TE-SE stand
.
It comes with a complete
extractor desk
, tripods, protectors & extractors listed below.
Available languages

English, Spanish, German, French, Italian, Portuguese, Japanese, Chinese, Russian and Korean.
REFERENCES
TESE-1A
100-120 V
TESE-2A
230 V
PRODUCT COMPOSITION
SPECIFICATIONS
Selectable Temperature
150 to 450 ºC (300-840 ºF)
Temperature profiles:
Design specific thermal profiles to avoid thermal shock during soldering processes.
Up to 25 fully configurable soldering profiles can be stored.
Operating modes
Heating / Profiles / Cooling
Vacuum
30% / 228 mmHg / 9 inHg
Type K thermocouple:
Can be used both for Control and Protection purposes.
USB-A (front)
Firmware update, Graphics/Profiles management
Robot
RS-232 remote control
Pedal
Optional tool control
Equipotential bonding
Optional connection to EPA
Ambient operating temp.
10 to 50 ºC / 50 to 120 ºF
Control Unit
148 x 184 x 140 mm / 4,93 kg
5.8 x 7.2 x 5.5 in / 10.86 lb
Package
474 x 368 x 195 mm / 5.69 kg
18.7 x 14.5 x 7.7 in / 12.54 lb