For Automated Processes
The SFR is designed for
automatic solder wire transportation
and is
controlled by a PC/PLC
.
To establish the communication between the SFR Solder Feeder and a Robot (PC or PLC)
download the Communication Protocol for SFR
at
www.jbctools.com/jbcsoftware.html
Control parameters such as wire length and dispensing speed are customizable.
It features a
wire detector sensor
and in case of any transport error the system informs with "blocked up" or "consumed".
The Automatic Solder Feeder is
compatible with
several solder wire Guide Kits
GSFR
, these are available for
different wire diameters
and with or w/o
Solder Wire Perforation
Guide Kits
GSFR
are
not included
.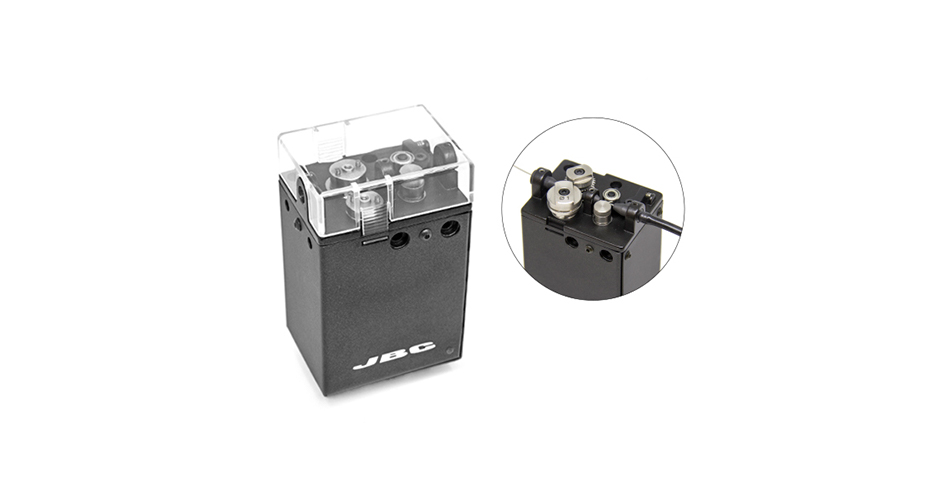 SPECIFICATIONS
Solder wire length
0.5 to 250 mm / 0.02 to 9.84 in
Solder wire speed
0.5 to 120 mm/s / 0.02 to 4.72 in/s
Operation modes
Continuous / Discontinuous
Wire diameter
0.5 to 1.5 mm / 0.020 to 0.062 in
Max. length
80 mm / 3.2 in
Max. diameter
80 mm / 3.2 in
Axis hole
>10 mm / >0.39 in
Solder Wire Perforation
Specific GSFR guide sets for flux core perforation are available, allowing flux flow and outgassing to minimize solder splashing.
Solder wire detection
A built in encoder provides feedback when the solder is not being fed (solder reel finished or solder guide clogged).
Voltage (DC)
24 V / 1.5 A required through M8
Ambient operating temp.
10 to 40 ºC / 50 to 104 ºF
Feeder with reel holder
124 x 158 x 114 mm / 1.0 kg
4.9 x 6.2 x 4.5 in / 2.2 lb
Package
215 x 130 x 120 mm / 1.3 kg
8.5 x 5.1 x 4.7 in / 2.9 lb