DDPE

2 Tools DDE Precision Station
DDPE Precision Rework Station is a perfect solution for fast and precise SMD rework of chip components and small outline ICs.
The
DDE Control Unit
manages up to 2 tools simultaneously and is fully compatible with 10 different
JBC tools
. Check below the complete list of compatible tools.
This rework station comes with the
T210 Precision Purpose Handle
and the
AM120 Adjustable Micro Tweezers
. The short distance tip-to-grip of both tools provides the highest precision handling even under microscope.
The Precision Handle T210 work with
C210 cartridges
and the AM120 with
C120 cartridges
whose exceptional thinness allows reworking components on heavily populated PCBAs without disturbing nearby components.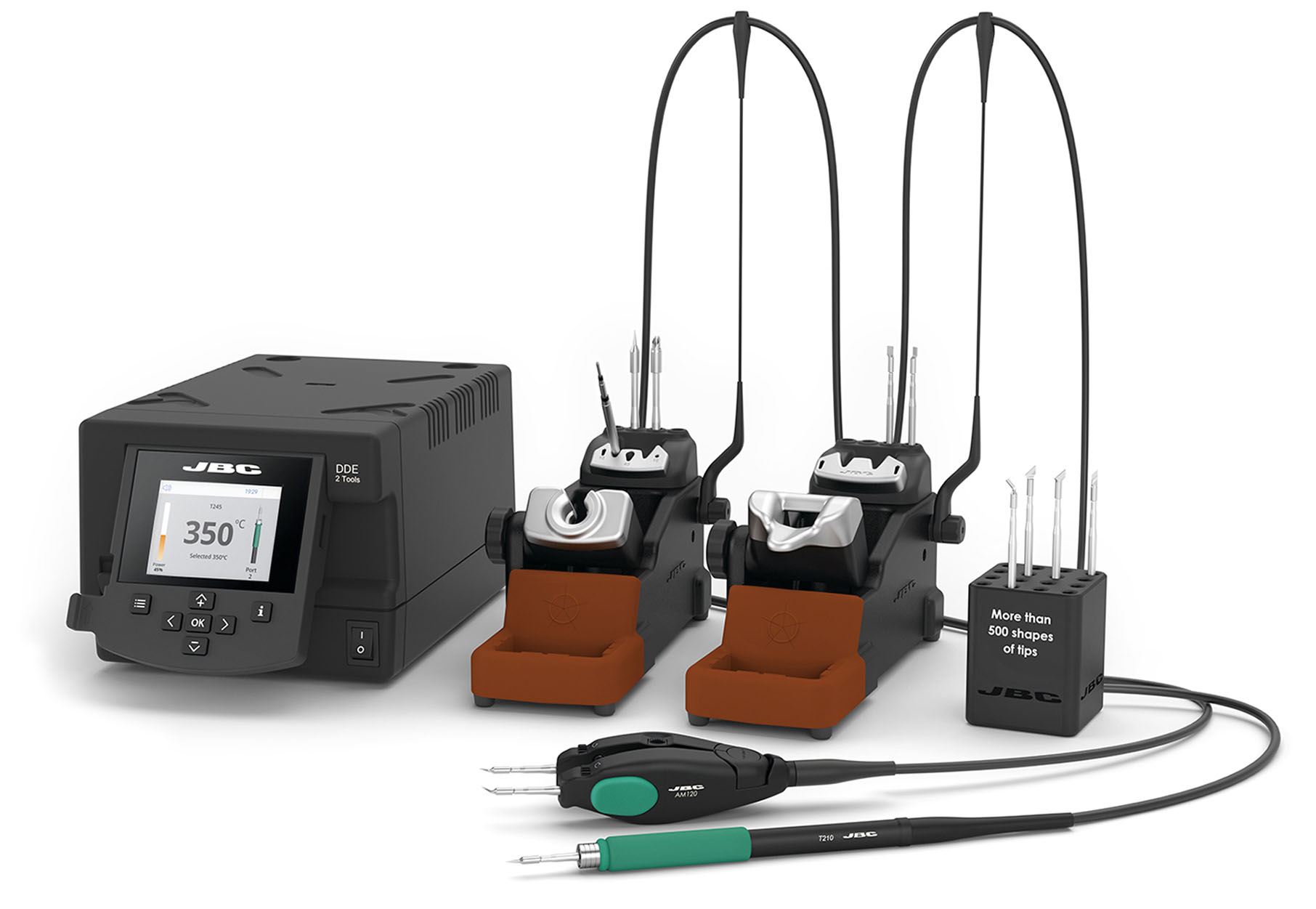 REFERENCES
DDPE-9QB
100 V
DDPE-1QB
120 V
DDPE-2QB
230 V
PRODUCT COMPOSITION
SPECIFICATIONS
Selectable Temperature
90 to 450 ºC / 190 to 840 ºF
USB-B (rear)
Software PC / Traceability
USB-A (front)
Firmware update Soldering Graphics management
Equipotential bonding
Optional connection to EPA
Tip to ground resistance
<2 ohms
Tip to ground voltage
<2 mV RMS
Peak power
150 W per tool – 23.5 V
Ambient operating temp.
10 to 50 ºC / 50 to 120 ºF
Control Unit
148 x 120 x 232 mm / 3.82 kg
5.8 x 4.7 x 9.1 in / 8.41 lb
Package
474 x 368 x 195 mm / 8.79 kg
18.7 x 14.5 x 7.7 in / 19.4 lb