Make the
highest quality solder joints
by cleaning the soldering tip with the
CLMU Universal Tip Cleaner
.
It increases the thermal transfer of the tip in
only 1 second
, saving time and optimizing the production outcome.
It works both in
Sensor
and
Continuous Mode
providing a
thorough and gentle tip cleaning
thanks to its Ø 50 mm fine bristle brushes.
The
splashguard
helps to keep the bench always clean and free of Foreign Object Debris (FOD). Its
opening is edged with soft material
to prevent unintentional tip deformation.
The Tip Cleaner also features a
second position which facilitates vertical tip access
.
The
CLMU-A comes with
two black core
metal brushes
for intensive cleaning.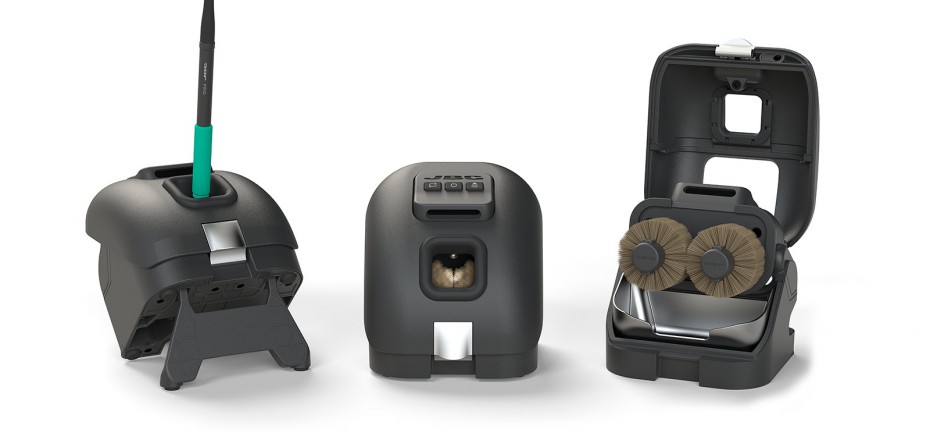 Operating modes
Proximity Sensor mode /
Fast, thorough and gentle tip cleaning:
The 50 mm (1.97") diameter brushes (available with metal or plastic bristles) thoroughly clean the soldering tip in just 1 second increasing its heat transfer capacity.
Silent operation:
Thanks to the brushless motors driving the cleaning brushes, the CLMU operation is extremely silent.
High capacity solder collector tray:
The high solder residue capacity tray allows extending maintenance intervals increasing the productivity.
Vertical position
The cleaning unit allows vertical position for ergonomic use of the cleaner when working in a standing position.
USB-B
PC connectivity for traceability purposes / Firmware update
Voltage (AC)
100 V to 240 V
Ambient operating temp.
10 to 40 ºC / 50 to 104 ºF
Cleaning unit with brushes
128 x 131 x 137 mm / 2.1 kg
5.0 x 5.2 x 5.4 in / 4.63 lb
Package
213 x 220 x 160 mm / 2.6 kg
8.4 x 8.7 x 6.3 in / 5.73 lb