In 1999 JBC expanded its business model in the United States, the world's largest economy. The International Monetary Fund expects the US to be the fastest growing advanced economy over the next few years, outpacing many other western countries. This represents an exceptional opportunity that JBC must not miss.
Who do we need to build up JBC's market share in the country? Only someone with many years of experience under his belt. Our company is committed to taking on talented and productive staff, which is why JBC hire David Reyes as Sales Manager in the US.
Want to know more about him? Read on!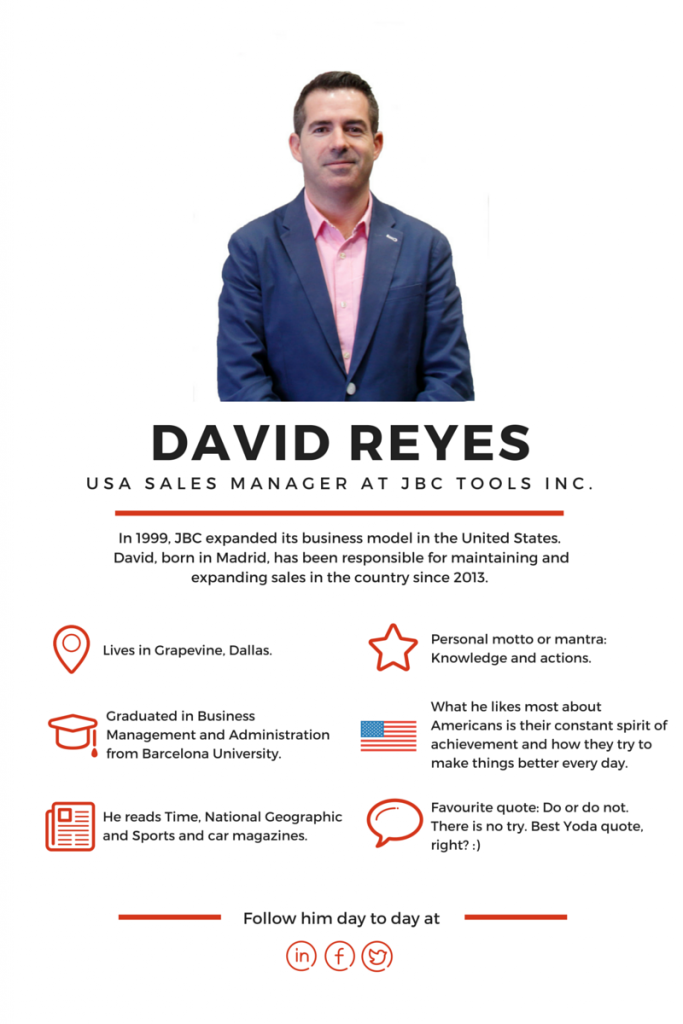 How did you first hear about JBC?
I was looking for a Spanish company to work for in the United States and heard there was a vacant post in JBC. One thing led to another.
What is your role at JBC?
I'm Sales Manager in the US. I'm responsible for promoting sales, improving customer service and building up brand awareness to get new business with OEM (Original Equipment Manufacturer) and EMS (Electronics Manufacturing Services) companies.
Before working at JBC, what was the most unusual or interesting job you've ever had?
I worked for a printing company in downtown Manhattan. Yes, people still print on paper!
How has JBC helped you in your career development?
JBC has given me the chance to better understand American industry. I now have a complete knowledge of the business model in the US and its different singularities in this vast land.
What 3 words would you use to describe JBC?
They are Innovation, Quality and Performance.
---
"Constant innovation allows JBC to offer different tools that meet customers' precise specifications"
---
What do you find the most challenging in our company?
Adapting products for different markets around the world, which is never an easy thing. What works in one country may not work in another.
At JBC, as a global business, we have learned that success in the emerging markets requires adapting to local attitudes and values. A few years ago, we might have seen global and local as irreconcilable opposites, but today we can be both, we can be glocal.
What is on your wish list for the next 10 years with our company?
Always improve! Work effectively and efficiently to meet customers' expectations and exceed standards set by competitors in the US.
What advice would you give to newcomers in the company?
My piece of advice would be: know your product, know your competitors' products and be constant. Then you will see the benefits of your actions.
What are your expectations for our industry?
Today a revolutionary development in microelectronics is taking place. The surface mount technology market is expected to grow, so I would like to be there and expand the business in the US.
What are you presenting in IPC APEX EXPO? What are the latest developments you have introduced into the country?
Last year we introduced our Excellence range stations with great success, with which the customers can collect data, track the performance and control and improve the soldering process by making it easier and more efficient.
This year, we have moved a step forward in the Industry 4.0 and have launched the system B·Net, designed to remotely configure and manage JBC stations.
We are talking about the Internet of Things. The new rule for the future is going to be, "anything that can be connected will be connected." In fact, by 2020, there will be 250.000 vehicles connected to the internet and that is what we are doing with our stations.
---
"Anything that can be connected will be connected"
---
The B·Net system allows medium and big companies total control over the soldering process via Internet. They can configure all their stations at the same time and apply a specific configuration to each product line, no matter where the factory is located. For example, from the US, you can control your factories in Europe, Asia…
Having a factory connected will save money and, of course, improve the quality of products. With IoT, there are limitless opportunities for business and society.
How is the show going?
The company has been exhibiting at the trade show since 2007. We always present our latest innovations here, but the IPC APEX EXPO also gives us the chance to find out how our equipment and technologies can meet the changing needs of the American manufacturing industry. All this is extremely valuable information and I'm happy to say things are going pretty well.
Why should somebody stop at JBC booth?
Constant innovation allows JBC to offer different tools that meet customers' precise specifications. As a result of the great praise received about our rework system from customers and the success of productronica in Europe, we have enlarged the range with new products like the rework adjustable arm, and also improved the high-powered hot air stations and preheater sets… Everyone is going to be very impressed.
---
Are you coming to IPC APEX EXPO 2016? David and his colleagues will be glad to talk to you at Booth 3025. See you there!