In 2013 JBC expanded its business model in Mexico, a growing market for automotive and consumer electronics industries. Over the past 21 years, Mexico's economy has increasingly steered away from agriculture and more towards an export-driven manufacturing economy. The country is also a top destination for U.S. companies.
That is why our company decided to disembark in this prosperous land. Who do we need to spread the JBC name around the country? Only a Sales Manager with the willingness to succeed: Domenec Taberner.
Want to know more about him? Read on!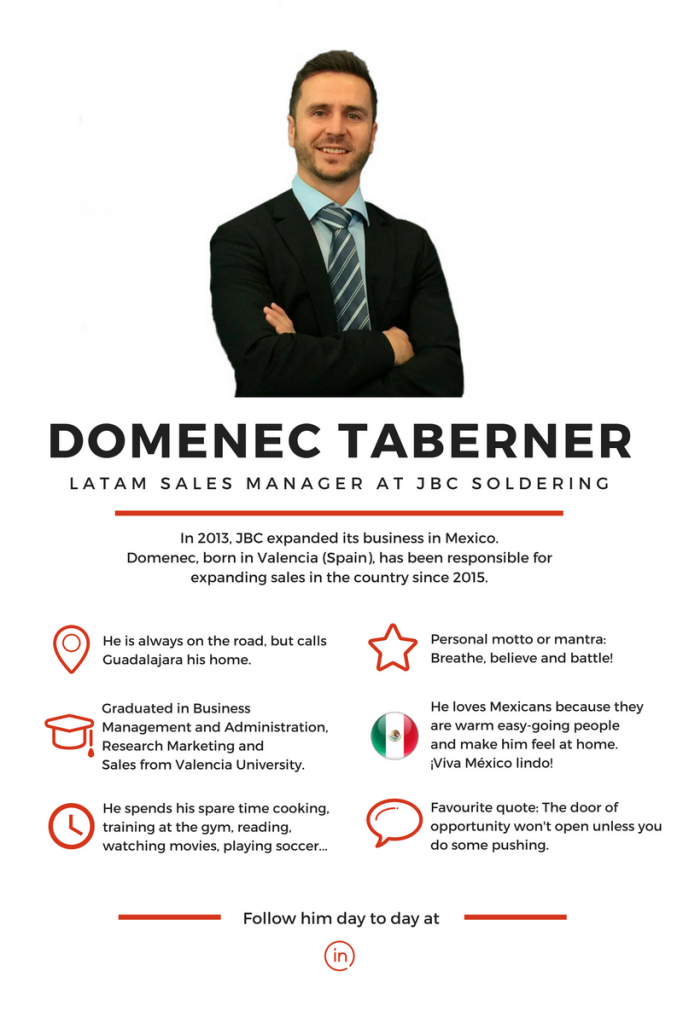 What is your role at JBC?
I am JBC's LATAM Sales Manager. I am responsible for promoting sales, improving customer service and building up brand awareness to get new business with EMS companies in South America.
I am also responsible for the sales department in Mexico. I hire and train sales agents, visit customers and attend trade shows with them.
I work closely with our R+D Department to develop new products and new features to meet our customers' needs, as well as with the Marketing Department to create interesting videos.
Before working at JBC, what was the most unusual or interesting job you've ever had?
Before I joined JBC, I had been working in different sectors from the fashion to the construction industry. And in all of them I was able to show my sales skills and commitment.
If you ask about an unusual job, I remember working for a month as a concierge and I had time to read piles of books! But for any job I had, I have always given the best of myself and I learnt something which might help me in the future.
What was the first thing you learned at JBC?
The first thing I saw was that it had an impressive staff and how they help and give support to each other from the start. I really am a team player and JBC is the right place to be.
---
"We have to collaborate closely with the customer to find new solutions and constantly develop our products"
---

How has JBC helped you in your career development?
With JBC I have had the opportunity to develop different skills in sales, financial, technical as well as multi- tasking.
The company has given me the chance to create my own sales team and develop a sales strategy. If you like challenges, JBC is the place.
What 3 words would you use to describe our company?
Innovation, reliability and commitment.
What do you find the most challenging in our company?
The most challenging thing is to introduce the company and show how good we are. Sometimes we have to knock on our customer's door several times, but eventually you will be  able to change their opinion and win them over to our brand.
What do you like most about JBC?
I love selling quality products to my customer, and find solutions that help them to improve their processes, so I like to be involved with my customers' journeys and be a valuable partner in their organization.
What is on your wish list for the next 10 years with our company?
I hope put JBC in top place in South America. We have the team, the technology and the commitment, and we are confident about succeeding. To achieve this, we have to collaborate closely with the customer to find new solutions and at the same time constantly develop our products, which JBC knows how to do perfectly well.
What advice would you give to newcomers in the company?
Don't give up and always try to do your best. If you pursue your dreams, you will get there.
---
"Companies need to adapt to stay ahead of the competition"
---

What are your expectations for this sector?
Electronics is always changing. Automation and traceability are going to be an important part in this industry. Connected devices are revolutionizing modern industry and the manufacturing sector on the whole. In fact, a recent report conducted by Business Insider estimated that global manufacturers will invest $70 billion in IoT solutions in 2020.
I hope we can be part of this improvement, because electronics is developing really quickly.
As technology evolves every year, companies need to adapt to stay ahead of the competition and improve their returns on investment.
What are you presenting in SMTA Guadalajara? What are the latest developments you have introduced into the country?
A new solder feeder with V-Cut, an intelligent fume extractor and our new solder pot. I am sure they are going to be a hit.
Why should somebody stop at JBC stand?
As well as presenting our products, our team will be giving technical presentations on how to solder the right way, how to maintain the tools, how to choose the correct tips and also the B·Net, which is our solution for remote control of soldering via the Internet.
---
Are you coming to the SMTA Guadalajara? Domenec and his colleagues will be glad to talk to you at stand 99. See you there!