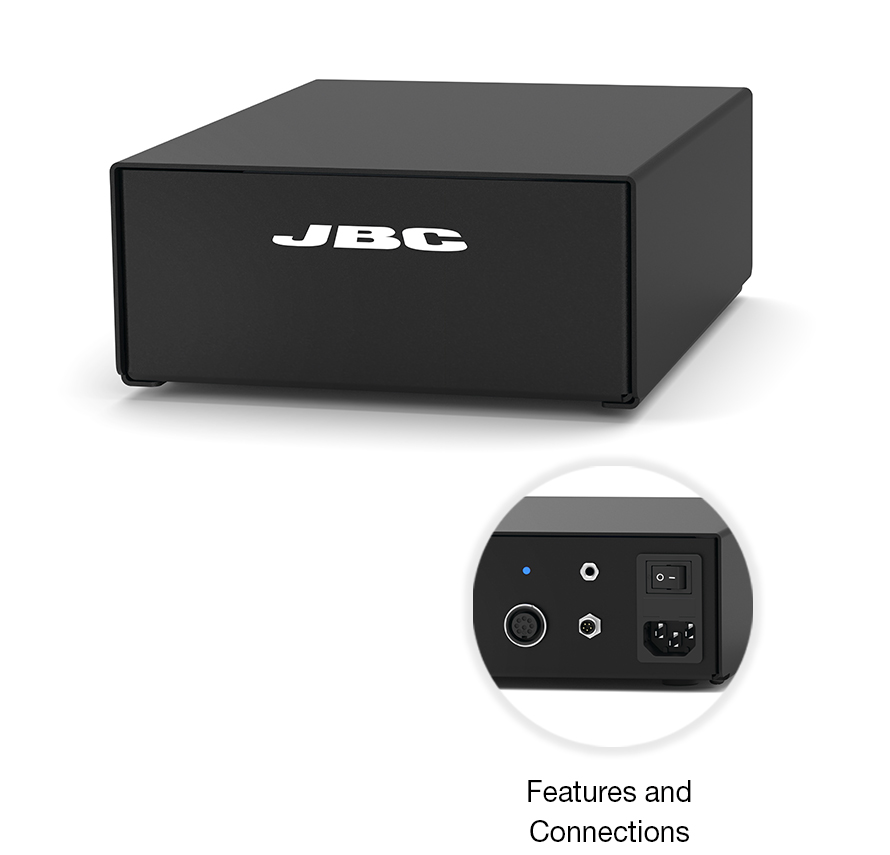 For Automated Processes
The UCR Control Box
manage the new developed Soldering Irons
TR
and
TRA
with its new
Cartridges R245
and
R470
, specially developed for automated soldering processes.
For
standard soldering requirements
suits
UCR245
and for
Heavy Duty requirements
the
UCR470
Control Box.
To establish the communication between the UCR Control Box and a Robot (PC or PLC)
download the Communication Protocol for UCR
at
www.jbctools.com/jbcsoftware.html
.
More than 40 commands
help to control working parameters such as Temperature, Sleep, Hiber- nation and Control Box status. Also allows getting Information about Errors and Hours Counter.
To integrate the UCR Control Box in your Automated Soldering Process,
JBC provides the Soldering Unit
HA245A-5A and HA470A-5A
, easily installable to existing Robots.
SPECIFICATIONS
Tool compatibility
UCR245/UCR470:
Selectable Temperature
UCR245:
90 to 450 ºC (190 to 840 ºF)
90 to 500 ºC (190 to 930 ºF)
Serial communication RS-232
M8-5pins
Tip to ground resistance
<2 ohms
Peak power
UCR245: 160 W - 21 V
Ambient operating temp.
10 to 40 ºC / 50 to 104 ºF
Control Box
210 x 162 x 75 mm / 2.20 kg
8.3 x 6.4 x 3.0 in / 4.85 lb
Package
328 x 258 x 208 mm / 2.60 kg
12.9 x 10.2 x 8.2 in / 5.73 lb