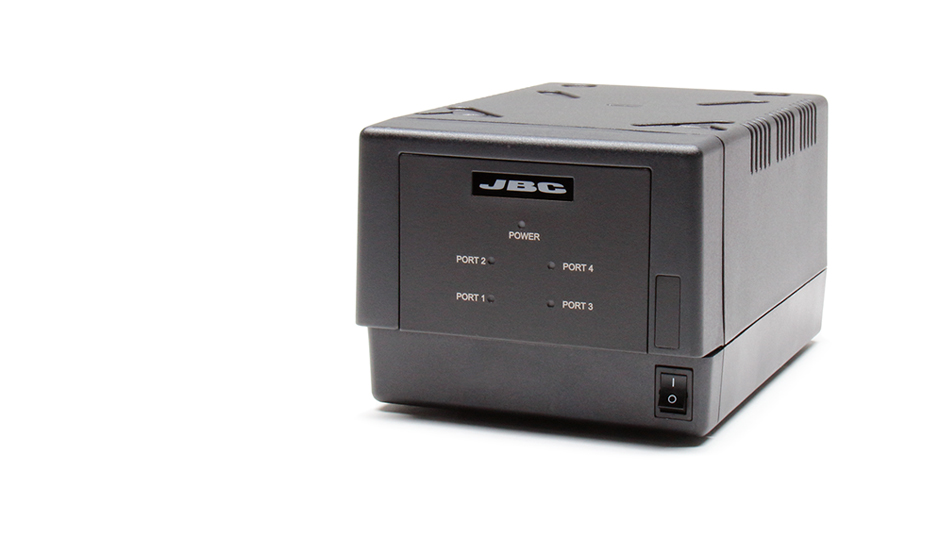 This unit can simultaneously
manage up to 4 tools
. It is suitable for soldering and desoldering almost all types of components as well as for many kinds of rework jobs.
The
4 LEDs on the front panel
indicate if the ports are connected and what the tool´s status is: in Work or Sleep mode.
It can be
easily configured by computer
(USB or Ethernet) and you can personalize
over 20 parameters
which cannot be modified during the work process.
You can control 5 PSE units in a single DME and work with up to 24 tools simultaneously
.
You can also manage and monitor the station using a
robot system
.
SPECIFICATIONS
Temperature*
90 to 450 ºC / 190 to 840 ºF
Dynamic Soldering Profiles*
Designed to avoid thermal shock when soldering Ceramic Chip components like MLCC, this new and unique feature allows controlling the heating ramp up rate of the tool to gradually increase the temperature of the
component through all the phases of the soldering process. Up to 25 fully configurable soldering profiles can be stored.
These modes lower soldering tip temperature when the tool rests in the stand in order to avoid oxidation and extending tip life.
Max. and min. temperature*
Limit the temperature range in which the operator is allowed to work.
Temperatue levels*
Instant selection of up to 3 editable temperature settings for solder joints with different heat requirement.
Soldering graphics*
Real time visualization of tip temperature and power delivered to the solder joint during soldering process.
PIN protection*
Keep station parameters protected against unauthorized access.
USB-B (rear)
Software PC / Traceability / Firmware update
PSE IN / OUT
Interconnection of up to 5 PSE control units to a DME station manage up to 24 tools simultaneously.
LAN
Remote control / Traceability
Peak power
160 W per tool – 23.5 V
Ambient operating temp.
10 to 40 ºC / 50 to 104 ºF
Control Unit
148 x 120 x 232 mm / 4.26 kg
5.8 x 4.7 x 9.1 in / 9.38 lb
Package
258 x 328 x 208 mm / 4.66 kg
10.2 x 12.9 x 8.2 in / 10.27 lb
*Parameters and features
managed from PC or
DME station