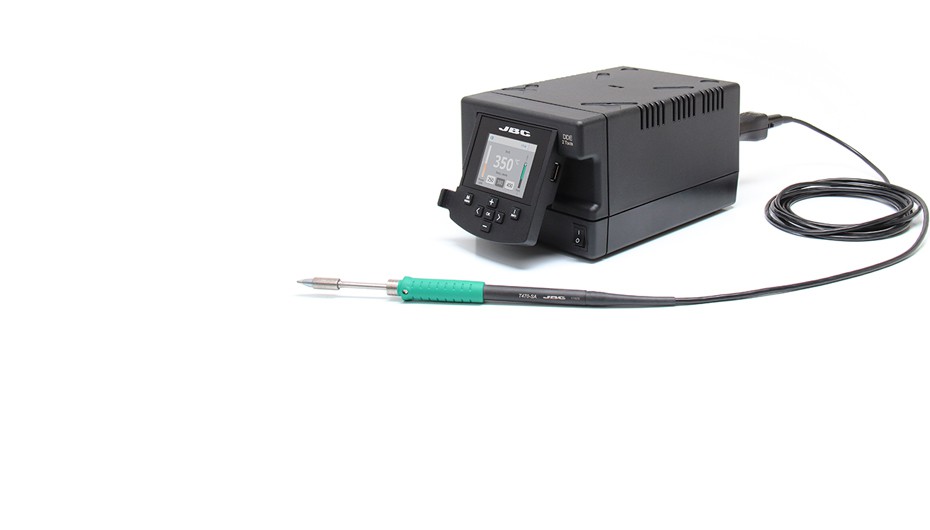 The ideal solution for repetitive jobs with
robot
.
It includes the
DDE 2 Tools Contol Unit
which communicates with the robot through the RJ12 connector and in accordance with this
Protocol
.
It also features the
JBC exclusive heating system
and the
Excellence range
benefits.
The converter guarantees the
sleep & hibernation
modes without using a stand.
The DDRE Robot Station includes the
T470-SA
Handle which suits perfectly any robotic system thanks to its 3m cable and the screw which prevents movement of the cartridge.
It works in combination with
C245
Cartridges.
Cartridge not included
.
SPECIFICATIONS DDRE STATION
Net weight
0,000 kg (0.00lb)
Dimensions
148 x 120 x 232 mm
Voltage
120V / 230V / 100V
Output peak power
150W per tool
Temperature selection
90-450 ºC (190-840 ºF)
Idle temp. stability (still air)
±1.5 ºC (±3 ºF)
Tip to ground resistance
<2 ohms
Tip to ground voltage
<2 mV RMS
Ambient operating temp.
10-40 ºC (50-104 ºF)
Communication connectors
USB-A / USB-B / Peripherals
Robot connector
RJ12 for RS-232 protocol
Package weight
0,000 kg (0.00lb)
Package dimensions
183 x 60 x 34 mm
Cartridge Range
Other Compatible Items