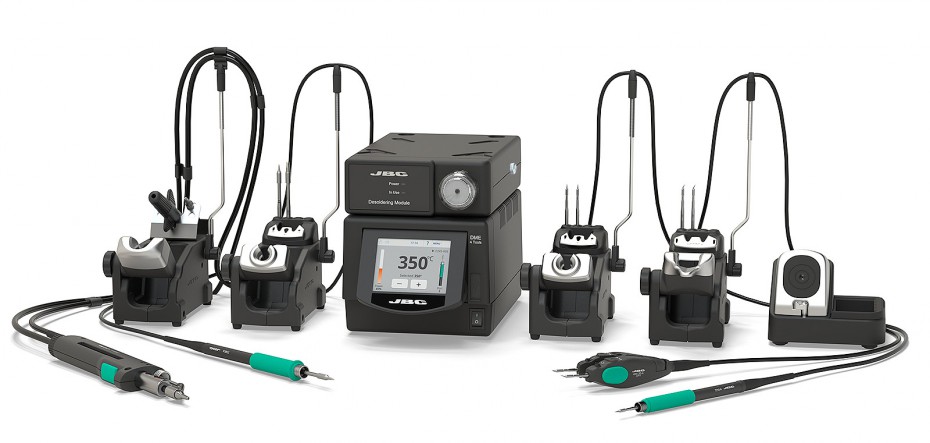 The
DME
manages
up to 4
tools
simultaneously
and is
fully compatible
with 10 different
JBC tools
. Check below the complete list of compatible tools.
The
MVE
Pneumatic Desoldering Module is indispensable for a
complete desoldering process
. Clean and dry compressed air is required.
It works with the
JBC exclusive Heating System
and the intelligent
sleep & hibernation
modes.
It features all the
Excellence range
benefits such as station customization, full control of soldering processes and remote work management.
Although the Control Unit is
compatible with 10 different
JBC tools
, the
DMPSE works simultaneously with
the
T210
Precision Purpose Handle, the
T245
General Purpose Handle, the
AM120
Micro Tweezers and the
DR560
Desoldering Iron.
SPECIFICATIONS
Selectable Temperature
90 to 450 ºC / 190 to 840 ºF
Dynamic Soldering Profiles
Designed to avoid thermal shock when soldering Ceramic Chip components like MLCC, this new and unique feature allows controlling the heating ramp up rate of the tool to gradually increase the temperature of the
component through all the phases of the soldering process. Up to 25 fully configurable soldering profiles can be stored.
These modes lower soldering tip temperature when the tool rests in the stand in order to avoid oxidation and extending tip life.
Max. and min. temperature
Limit the temperature range in which the operator is allowed to work.
Temperatue levels
Instant selection of up to 3 editable temperature settings for solder joints with different heat requirement.
Soldering graphics
Real time visualization of tip temperature and power delivered to the solder joint during soldering process.
PIN protection
Keep station parameters protected against unauthorized access.
10 user interface languages
English, German, Spanish, French, Italian, Portuguese, Russian, Japanese, Korean, Chinese.
Vacuum (at 6 bar)
90% / 680 mmHg / 26.8 inHg
Flow rate (at 6 bar)
15 SLPM
Air pressure supply
up to 6 bar
USB-B (rear)
Software PC / Traceability
USB-A (front)
Firmware update.
Soldering Graphics / Profiles management.
Dino-Lite USB microscope connection. Compatible models: AM2011 and AM2111.
LAN
Remote control / Traceability
PS
Interconnection of up to 5
PSE control units
to manage up to 24 tools simultaneously.
Tip to ground resistance
<2 ohms
Tip to ground voltage
<2 mV RMS
Peak power
160 W per tool – 23.5 V
Ambient operating temp.
10 to 40 ºC / 50 to 104 ºF
Dimensions/Net weight
See individual modules
Package
480 x 370 x 380 mm / 14.21 kg
18.9 x 14.6 x 15.0 in / 31.33 lb
Cartridge Range
Other Compatible Items