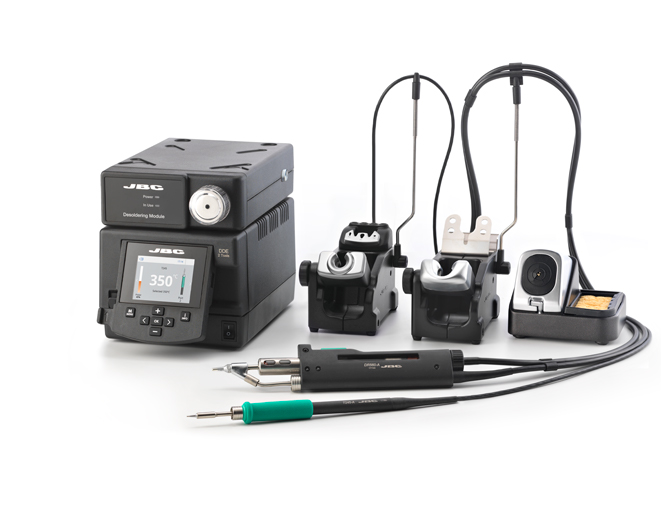 A
complete solution
for fast and safe PCB repair.
The
DDE
2 Tools Control Unit manages the tip temperature and the
MVE
Pneumatic Desoldering Module sucks the solder. Clean and dry compressed air is required.
It works with the
JBC exclusive heating system
and the intelligent
sleep & hibernation
modes.
It features all the
Excellence range
benefits such as station customization, full control of soldering processes and remote work management.
Although the unit is compatible with any
JBC tool
, the DDVE works simultaneously with the
DR560 Desoldering Iron
and the
T245 Handle
.
SPECIFICATIONS
Selectable Temperature
90 to 450 ºC / 190 to 840 ºF
These modes lower soldering tip temperature when the tool rests in the stand in order to avoid oxidation and extending tip life.
Max. and min. temperature
Limit the temperature range in which the operator is allowed to work.
Temperatue levels
Instant selection of up to 3 editable temperature settings for solder joints with different heat requirement.
Soldering graphics
Real time visualization of tip temperature and power delivered to the solder joint during soldering process.
PIN protection
Keep station parameters protected against unauthorized access.
Vacuum
90% / 680 mmHg / 26.8 inHg
Air pressure supply
up to 6 bar
USB-B (rear)
Software PC / Traceability
USB-A (front)
Firmware update Soldering Graphics management
Tip to ground resistance
<2 ohms
Tip to ground voltage
<2 mV RMS
Peak power
150 W per tool – 23.5 V
Ambient operating temp.
10 to 40 ºC / 50 to 104 ºF
Control Unit
See individual modules
Package
368 x 474 x 195 mm / 9.85 kg
14.5 x 18.7 x 7.7 in / 21.72 lb
Cartridge Range
Other Compatible Items