This Station
comes with the Solder Feed Iron
AP250
and works with
C250
Cartridges.
It suits for intensive soldering of THT components or for cable assemblies and is
very useful when a free hand is required
.
The Station comes with the
JBC exclusive Heating System
and the intelligent
sleep & hibernation
features.
Using the
menu
you can personalize
over 20 parametes
.
It incorporates a
USB connector
(type B) to update station software and create graphs.
A
complete Cleaning System
with antisplash membrane and wiper with sponge is integrated.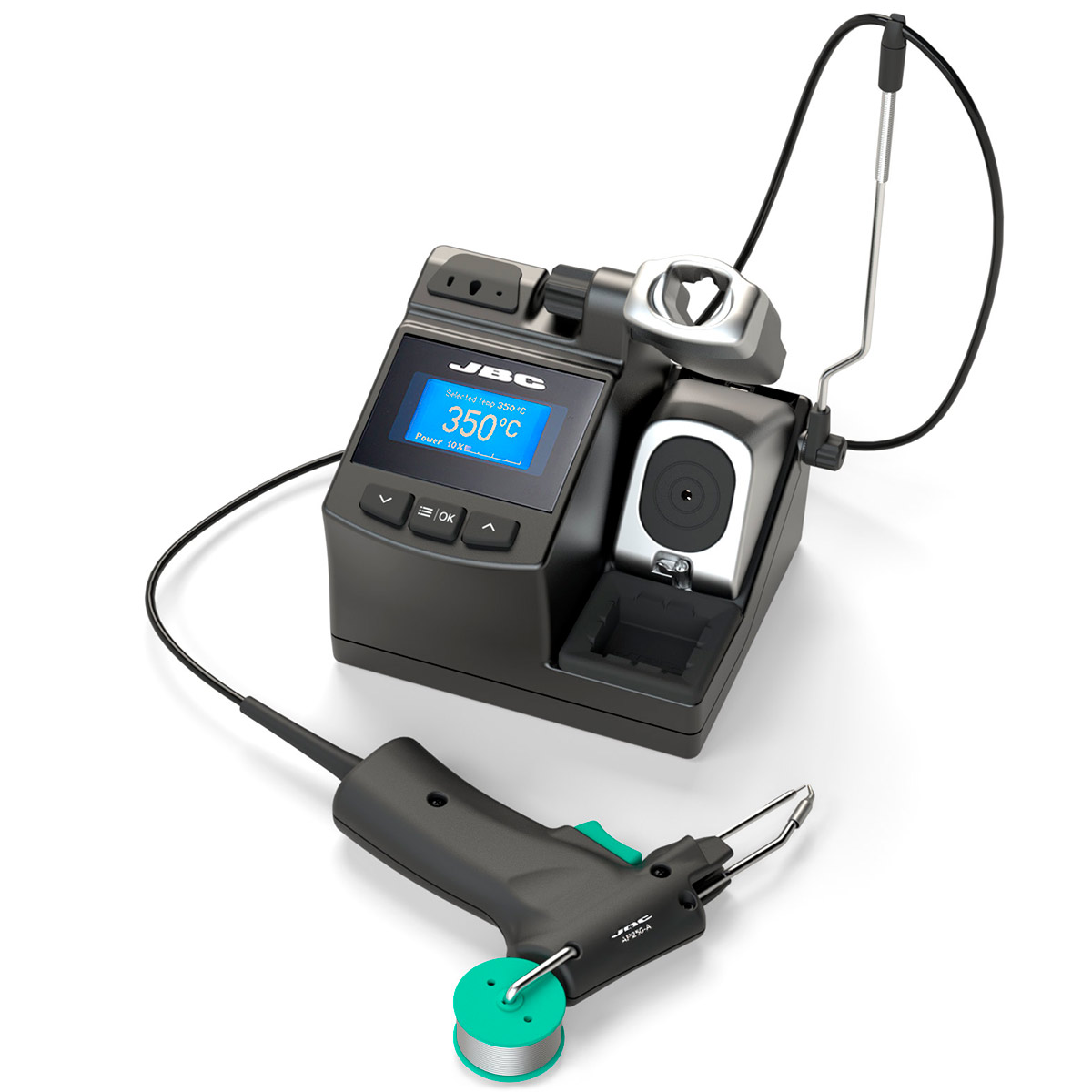 SPECIFICATIONS
Selectable Temperature
90 to 450 ºC / 190 to 840 ºF
Wire diameter
0.8 to 1.5 mm / 0.02 to 0.07 in
These modes lower soldering tip temperature when the tool rests in the stand in order to avoid oxidation and extending tip life.
Max. and min. temperature
Limit the temperature range in which the operator is allowed to work.
Temperatue levels
Instant selection of up to 3 editable temperature settings for solder joints with different heat requirement.
PIN protection
Keep station parameters protected against unauthorized access.
USB-B
Software PC / Firmware update
Tip to ground resistance
<2 ohms
Tip to ground voltage
<2 mV RMS
Ambient operating temp.
10 to 40 ºC / 50 to 104 ºF
Control Unit
150 x 175 x 145 mm / 2,67 kg
5.9 x 6.9 x 5.7 in / 5.88 lb
Package
234 x 234 x 258 mm / 3.15 kg
9.2 x 9.2 x 10.2 in / 6.94 lb